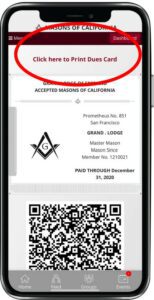 In 2020 the Grand Lodge of California changed the way in which we pay our dues and what a "dues cards" is. (its digital, not a physical card anymore) Here are the facts you need to know.
Dues Cards:
All Freemasons in California must have an iMember 2.0 account.
Dues cards are now signed by the Grand Lodge Secretary, not by the local lodge secretary.
Dues cards are "are going away",  being replaced by the iMember 2.o System
The Lodge will not print or mail dues cards, they are available as "self serve" for you to print, should you wish to have one.
Travelers? California Lodge Tylers and 200 Grand Lodges throughout the world, are using a system called Amity to validate your current status & inter-lodge recognition.
This "Digital" system, increases security. What if someone were to be suspended after paying their dues? A Tyler might not know the current status of a visitor, until the next year.
---
The Facts: Dues cards are now digital via iMember 2.0. To pay your dues, you need an iMember 2.0 account. You can find meetings and Lodge events, and contact info for other Members within your account. There is even social media messaging for your Lodge within the App.
---
Getting on iMember 2.0: How to signup for an account & login
Visit this link https://member.freemason.org/membership_registration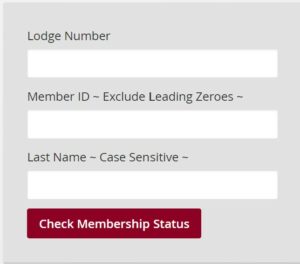 You will need your Member number, which is on your old dues cards, or your secretary can provide it for you.
You will need an email address. You should use the same email address on file with Grand Lodge. Your secretary can tell you which one this is, or you can look for emails from Grand Lodge and figure out which email address they have on file, if you have multiple addresses.
---
Paying your dues:
Grand Lodge handles all billing and invoicing. The Lodge Secretary does not send out dues notices. Grand Lodge will email you, then snail mail via USPS, and then Grand Lodge will send reminders, in November, December and January respectively.
---
If you send a check to the Lodge which is NOT the preferred method, the iMember 2.0 website can take months to catch up, and show your current status. Please pay your dues via iMember.
---
Paying Dues via iMember 
Login Here https://member.freemason.org/membership_registration
1.Click "Check Member Status."
2) Enter in your "Email" address, "Password" at least 8 characters long, and re-enter your password on "Password Confirmation", then click "Sign Up."
3) Once you are logged in, it will let you know that you have successfully signed in.
4) Follow the prompts on the screen to "Pay Dues." We take VISA and Mastercard only. There is a mandatory fee to pay by credit card, and this is from the credit card processor. The other option is to send your dues payment check to Grand Lodge. (Address is in your communications and on the invoice). Please don't send a check to the Lodge P.O. Box directly.
Once you pay, your new dues card will immediately be accessible in iMember 2.0. Just follow the links on the 'Thank You' page to see it.
6) Your lodge secretary will be notified that you paid your dues.
We hope you find this new service convenient and useful.
---
Dues Remission:
Remember, if you are in financial hardship, or are unable to pay part or all of your dues, please reach out to the Worshipful Master, or use this Grand Lodge form.
https://freemason.org/duesremission/?highlight=dues
---
If you have questions, please contact Member Services at (415) 292-9180 or by email at memberservices@freemason.org.