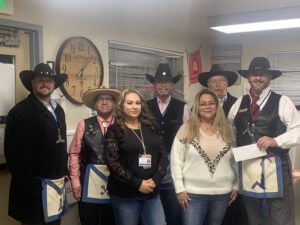 Eve Mata and Christina Leon, who administer the H.O.M.E. Resource Center in Hollister, California, receive fundraiser proceeds from representatives of Texas Lodge #46, in support of their local shelter and food provision programs.

On November 12, 2022 Texas Lodge held a fundraiser to benefit local youth and homeless programs.

Texas Lodge, like all California Masonic Lodges, has its own set of unique assets, liabilities, community needs, and member personalities, and we put our strengths to work by identifying two worthy organizations in our community (the local BSA troop and a homeless shelter in town), and creatively conjured a plan to fundraise for their benefit. In our case, we tapped assets to teach a "Legit Phở Cooking Class" on how to prepare a traditional and comforting Vietnamese soup, and combined the event with an effort to auction off holiday-decorated pumpkins. We advertised the fundraiser through our local businesses and friends. Pumpkins were donated by the local Swank Farms, and everyone who heard of the effort was willing to provide clippings of succulents or donate generously by buying tickets to the cooking class. 

The appointed day arrived, and we had over 30 attendees at the class, who observed Teresa demonstrate the soup-making steps while Worshipful Kevin provided a history of Texas Lodge and displayed our centuries-old minute books. All attendees received a copy of the Phở recipe and a package of the spices and noodles needed to make their own Phở at home. Afterward, we all enjoyed a bowl of the fabulous fare with family and friends in attendance. Over half of those present were non-Masons, affording us a unique opportunity to explain the role Masons play in our community.

Once the funds were collected, the Lodge received the donations and on December 5 made the presentations to the beneficiaries. This was a successful promotion of the Lodge's charitable goals where we made a difference in our community, and we had a lot of fun in the process — as you can see!
Here is a link to the local newspaper's coverage of the events: https://sanbenito.com/freemasons-support-youth-and-homeless/