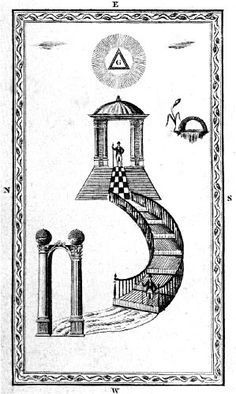 Texas Lodge no. 46 was opened on the 2nd Degree of Masonry, at 10:06AM on October 29th 2022. Worshipful Kevin Herrick PM sat in the East, Richard Bartlett PM sat in the West, and Ray E. Hill IV PM sat in the South. Brother Matthew LeBaron our Senior Deacon placed the working tools upon the 611th page of our Bible, Solomons Prayer.
Other chairs throughout the Lodge were filled by Brethren whose names appear in the Tyler's register. This Lodge was opened for the purpose of conferring the 2nd degree of masonry upon Scott Sorensen and James Caldwell.
Worshipful Brother Robert Robbins served as stagecoach driver, his father riding shotgun.  The Robbins duo, brought special guests David Tosh PM of Simonoff Lodge 850, and Hans Straub PM to this special meeting. Both reside in the Masonic Home at Union City.
At 10:40AM a noise was heard outside the door. It turned out to be Brother Scott Sorensen. A bit later at 11:35, another noise was heard, and it turned out to be Brother James Caldwell desiring admission. At 12:3opm both newly obligated brothers desired re-admission to a Lodge of Fellowcraft Masons, and Worshipful Brother Robert Robbins PM delivered a masterful lecture on Arts, Science, and Ancient Orders of Architecture, assisted by a antique floor cloth.
Worshipful Kevin Herrick PM delivered the Masters Lecture assisted by Wilson assisted as Chaplain and Prompter.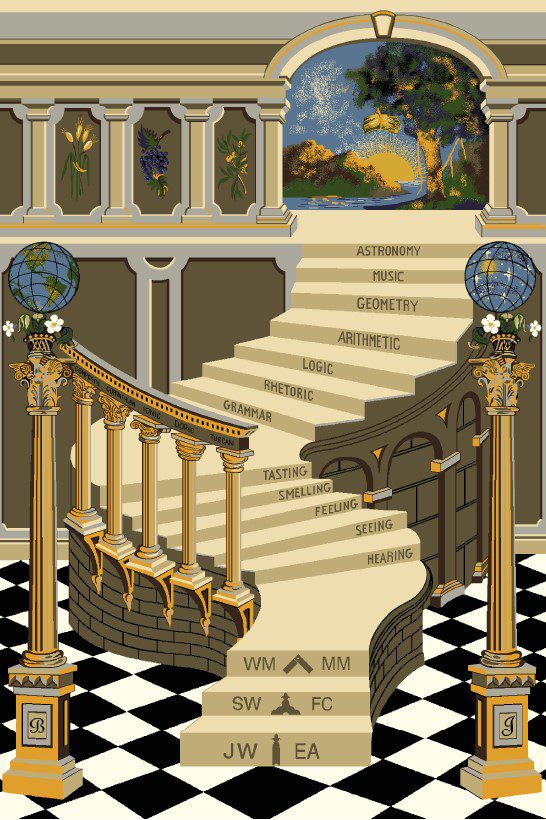 Worshipful Brother Richard Bartlett delivered the newly obligated brethren their charge.  All this fanfare was made particularly special by the witness of, the aforementioned special visitors.
Worshipful Past Master of Texas Lodge no.46, Brother Hans Straub was instrumental in keeping Texas Lodge no.46 alive and well, during some of its harder times. The list of offices he has held between Texas Lodge no.46 and San Benito 211 is extensive and detailed below.
On this special day his Brothers of Texas Lodge no.46 celebrated his achievement of being a Mason for 35 years.  The Lodge was raised, and a battery of 3 by 3 rung through the halls of Texas Lodge, in recognition of this very special moment in time.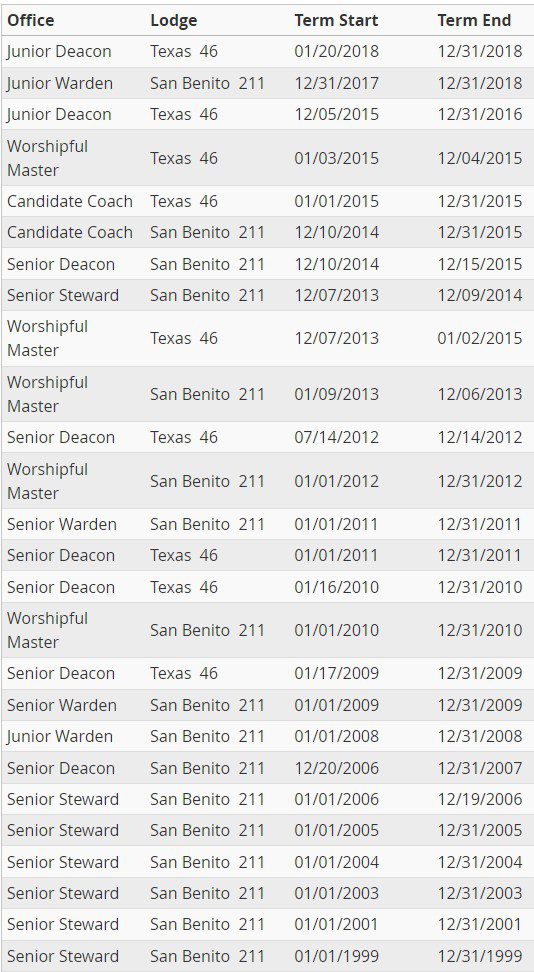 The Master presented him with a special 35 year pin, fashioned by a Doctor moonlighting as a frontier jeweler in the Salon, just moments earlier. This specimen of gold and blue enamel made reference to the German symbol of the craft, the little blue flower known as the "Forget Me Not". The "Vergisse mich nicht" for those who speak German.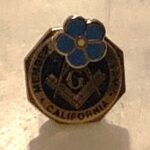 Worshipful Brother Hans was born in Germany, back in 1931. He offered us some fascinating perspectives of growing up under Der Fuhrer. As you may know, approximately 200K Masons were persecuted in Nazi Germany when Hans was becoming a young man. The aforementioned little blue flower became known as a clandestine symbol of recognition among Brothers of the craft.
The Secretary, Brother Loren McKechnie then presented each Brother in attendance a "Vergisse mich nicht" pin of their own, by which to remember this special occasion.
The Secretary said a few words regarding the history of this emblem, it being brought to the USA by Worshipful Brother Theodore Vogel Grand Master of Germany to an event in Washington DC in 1948. The Secretary has published some differing opinion's upon the  etymology of the Legend of the "little blue flower pin" and how it came to be a symbol of Masonry in Germany. Feel free to explore further, on the website.
During the preceding events at precisely 11AM as Brother Scott Sorensen was demonstrating his newly acquired building skills to the Lodge officers, the Great Architect of the Universe called for Worshipful Brother Thomas Immermann PM to set down his earthly working tools.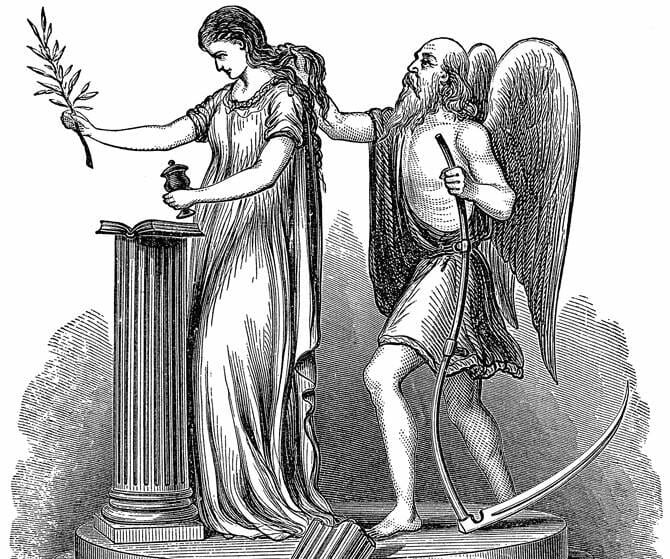 Brother Jim Riley said a few words about our Brother Tom, who resides at the Masonic Home in Union City, and had recently been transferred to hospice care.  The Secretary made this announcement and reminded the Brethren about how we travel on the level of time. The Master called up the lodge, and a minute of silence was observed for our departed Brother.
The lodge was closed at 11:49am
Respectfully Submitted,
Loren George McKechnie

Secretary of Texas Lodge no.46 F. & A.M. of California
Raymond E. Hill IV
Worshipful Master of Texas Lodge no.46 F. & A.M. of California