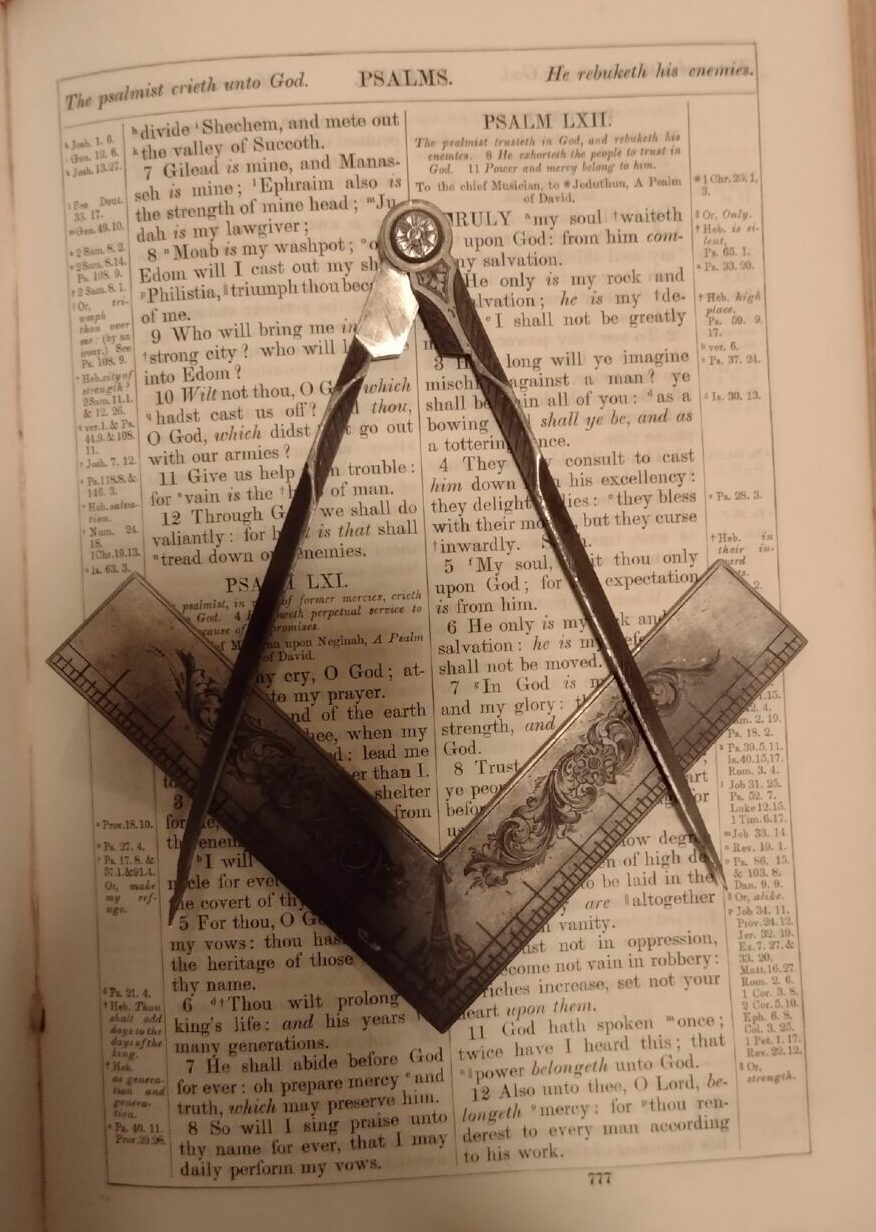 The Stated Meeting of September, was held on the 20th Anniversary of the Terrorist Attack on New York and the Pentagon. The master called for a minute of silence to remember how all Americans have been affected by the awful attack, especially all of our br
avest first responders, the men and women who run toward trouble and danger, rather than away from it.  The Lodge was opened at 10:18AM. The Master lead the brethren in the pledge of allegiance to the flag, of our great nation.
Approval of Previous Meeting Minutes:
The minutes of the August Stated Meeting, were approved as read, no errors or omissions noted.
Bills:
No bills were received, presented or paid.
Visitors: 
First Time Visitor: Michael Johnson of Warwick Lodge no. 336 Virginia  was welcomed and presented with the customary Texas Lodge no.46 commemorative coffee cup west of the Altar.
New Business:
Worshipful Raymond E. Hill IV proposed a new protocol for addressing dissention and discontent within the Lodge. With the advent of new technologies we may be technically more connected than ever, having the ability to send a message with minimal effort. Unfortunately messages are not always received as intended via various technologies.
To address this unique challenge of our time, it has been proposed that Past Masters leverage our
Brother Alexander Graham Bell's invention
, the ancient and now accepted technology, commonly known as the telephone to address any issues directly with those affected, as soon as possible.
Applications:
Application for Degrees Accepted: William Headley.  An application for degrees was read, and accepted by affirmative vote, from Mr. William Headley of Salinas.
Application for Affiliation: Vote Approved Tony Alarcon of San Jose #10.
The Brethren were able to see a clear sky, affirming a positive vote to affiliate Brother Tony Alarcon of San Jose Lodge #10.
Old Business:
Hiram Award:
Dinner for Secretary Loren George McKechnie. September 18th
Dinner and Drinks begin at 4:30PM, then at 6:00PM we will honor the Secretary with this lifetime achievement award.
Horseless Carriage Breakfast: Prior to Stated Meeting of  September October 
Brother Jim Riley has suggested that the Horseless Carriage Club, of which he is a member,  make a stop by San Juan Bautista and the Lodge Offer to hold a Breakfast therefore.  This club of Pre-World War 1 vehicles goes on tours and is a great historical group. Note this has been updated to be at the October Stated Meeting Breakfast, not September as previously planned.
Ladies of the Oriental Shrine of North America coming to tour the Lodge: Sept. 16th Thursday, 10:00 – 2:00
Wor. Kevin Herrick has volunteered to act as our docent and give Tours.  We will have refreshments and cookies.  Stop by and visit with the group, and take a walk around the Mission and San Juan Bautista.
50 Year Masonic Award Presentation: November 6th at 10:00AM-1PM
Please join us to celebrate this momentous milestone with Brother Richard Fischer. He is an esteemed member of Texas Lodge no. 46, and assistant Secretary in 2010, He subsequently served as Secretary of the lodge thereafter in 2011, 2012, 2013 and 2014.
Lodge Record Digitizing Committee:
Worshipful Dr. Kevin Herrick once again mentioned that the team is doing the pre-work, planning for digitizing all of our Lodge Records. A special meeting is to follow for the committee to process as directed.
Report from the Hall Association: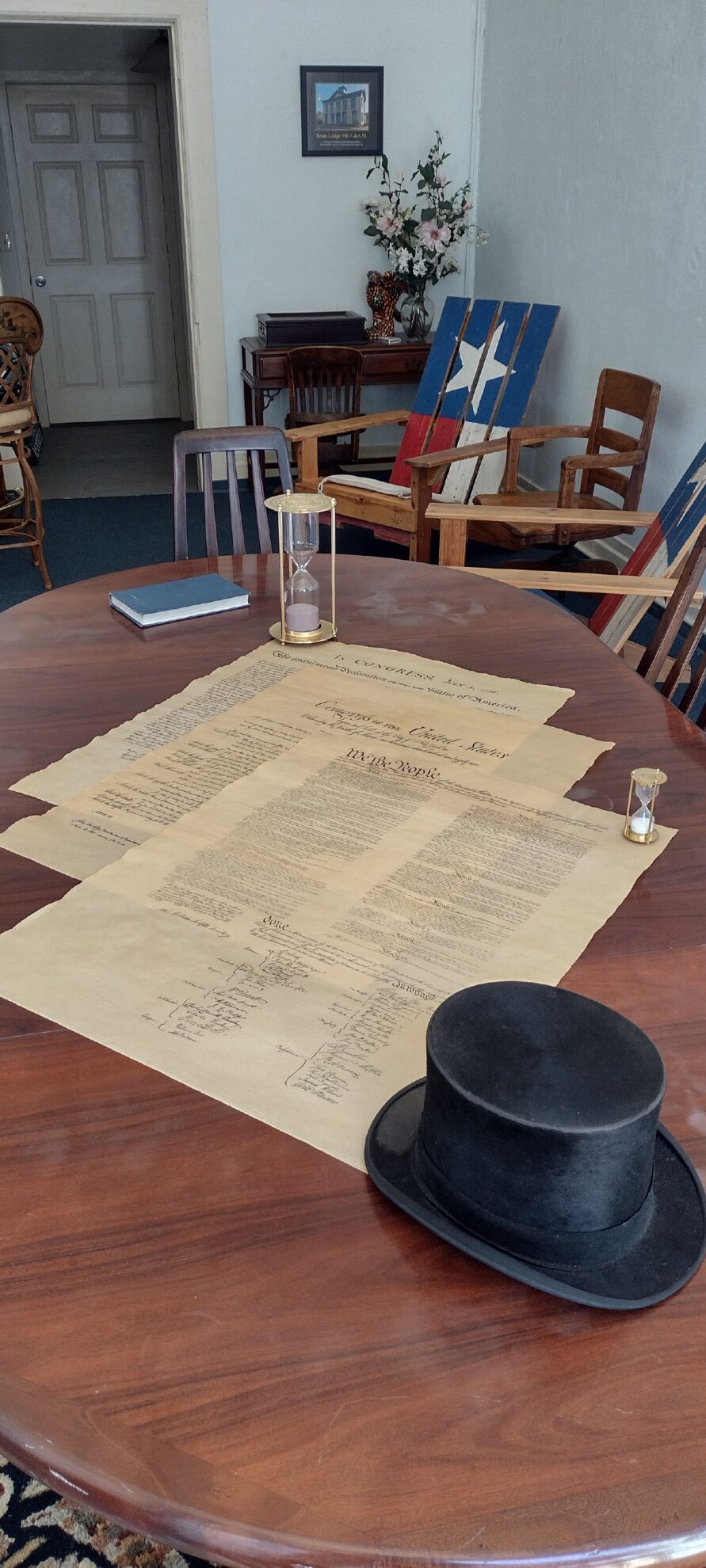 Brother John Densem offered us a clear and concise report as to the financial health of our Hall Association. Grand Lodge is efficiently taking care of our tax filings for $25/State and $25/Federal. All is in order with our property insurance, and all affairs of the Hall.
Visit by Charles Skip Bates:
Brother and Lodge Building Tenant, Mr. Matt Lebaron shared with us some goings on, from the weekday life of the Lodge. As he is often working from his office, in the East of the downstairs apartment, he get's to engage with the many inquisitive passers by, who peek through the windows of the Parlor.
Brother Lebaron spoke of a visit from Brother Charles Skip Bates, who stopped by recently. As a P.M. of the Lodge he still holds this place close to his heart, and came buy to do some weed-whacking in the back yard.  As we are all well aware, it is a Masons calling and duty, to not only improve himself, but his surroundings and the overall community.
Worshipful Inspector Possibly Retiring:
Our Worshipful Inspector B.J. McCuiston informed us that his 8 year service tenure to the district may be coming to a close. He very graciously continues to offer his advise and tutelage if he indeed is no longer serving in an official capacity to the Grand Lecturer.
Closing:
At 11:35 AM the Lodge was closed.
Respectfully Submitted,

Secretary Loren George McKechnie                                          Date: 8/19/2021

Worshipful Master Jeff Strouse                                                 Date: 8/19/2021