Election of Officers for 2020
Spirited and just Nominations and an ensuing Election, was held at the November Stated Meeting. Please welcome the Worshipful Master Elect of  Texas  Lodge No. 46 Brother Robert Robbins
Applications for Degrees & Affiliation: 
We have received and read aloud in the November Stated meeting, an application for affiliation from Mr. Richard Alan Goldstein of Hollister, CA. He is 56 years of age and a member of  San Benito Masonic Lodge #211
The lodge received an application from Mr. Zachary Monk, an investigation committee was appointed, and we await their report or rapport. If they deem the candidate suitable to become a freemason, we will likely hold a vote during the December stated meeting.
Presentations:
Worshipful Master Raymond E. Hill IV presented a diploma to Brother Loren George McKechnie. It recognized his proficiency in the Candidate lecture of the 3rd Degree, which was performed on March 30th, 2019of
2020 Dues:
You should receive your dues notice in the mail very shortly. Texas Lodge No. 46 Dues for the year 6020AL have been set to be $103.00, just $8.58 per month roughly 2 Starbucks Venti Lattes.
Grand Lodge Reinstatement Drive.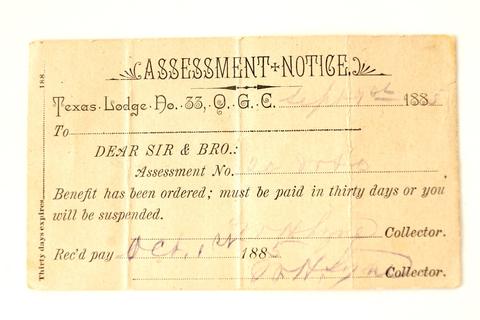 Grand Master John E. Trauner is proposing a simple, straightforward path back for members, who have been suspended due to non-payment of dues. Whether a member has been suspended for two months or 20 years, the plan works the same.
Statewide, there are approximately 40,000 lapsed members—that's almost as many Masons are as active. When other masonic organizations instituted a similar restoration program, they saw approximately 10 to 15 percent of suspended members brought back into the fold. Those kinds of results for California could provide a much-needed injection to lodges in need of members and future leaders. And, a September 2019 survey of members suspended for non-payment of dues indicated that 82% of them would like to be restored to good standing. This will require a vote on the resolution at a stated meeting.
Texas Lodge #46 registry currently contains 13 members who may qualify for this program.
Should we decide to participate, we would do the following:
Your lodge will receive a list of all members of your lodge who have been suspended for non-payment of dues.
Remove any members on the list that should not be included in the restoration campaign.
Vote on the resolution at a stated meeting. The resolution will pass with a 2/3 vote of all present at the stated meeting.
Return your edited list and the signed resolution to Grand Lodge.
Grand Lodge will reach out to all indicated members of your lodge, and invite them back to the fraternity.
Grand Lodge will receive the payments from the suspended members, update the member's record, restore him to good standing, and record his payment. Grand Lodge will then notify the member and your lodge, so that you may reach out to him, issue his dues receipt and welcome him back to lodge.
Upcoming Calendar Dates of Note:
December 14th: Stated Meeting: Breakfast at 9:00 am, the Gavel Hammers at 10 am. Please join us for the last Stated Meeting of the year 6019AL 
December 19th: Madara Lodge #280 INVASION OF ATTENDANCE & SUPPORT FOR 1st Degree. 7:00 PM  Address:123 South B Street, Madera, CA 93638 Carpool from Tx.Lodge MAP
December 31st: Early Bird Pricing for Officers Retreats Early (through December 31, 2019): $325 vs. $375 (Save $50)
January 4th: 2020 Joint Installation of Officers Ceremony, with Salinas Lodge at 48 E San Joaquin St, Salinas, CA 93901
January 11th: Stated Meeting. Breakfast at 9:00 am, the Gavel Hammers at 10 am.
February 8th: Stated Meeting. Breakfast at 9:00 am, the Gavel Hammers at 10 am.